Get the stunning Samsung Galaxy S8 from €129 upfront and just €35 monthly for 5 months, €55 thereafter with our unlimited plan
Buy before 31st January and save €100
Get the amazing Apple iPhone X 64GB from €499 upfront and just €40 monthly for 5 months, €60 thereafter with our unlimited plan
Buy before 31st January and save €100
Get the awesome Motorola Moto G5 from FREE upfront and just €15 monthly for 5 months, €35 thereafter with our unlimited plan.
Buy before 31st January and save €100
Are you a Virgin Media Customer?
Are you a Virgin Media Customer? NoYes
Just a moment, we're nearly there!
Mobile SIM Only customer price plans and offer: Customer price plans and offer available to Virgin Media Broadband or TV customers, subject to a limit of four mobile subscriptions per account and a maximum of one promotion per mobile subscription or mobile number (MSISDN). A 30 day rolling contract on mobile applies. Plans include national landline and mobile calls, text messages and data within the Republic of Ireland. EU Roaming is also included. Offer closes 31/01/2018. Click here for full terms and conditions.

Fair Usage Policy on unlimited plans: Monthly allowance of 10,000 (landline and mobile) minutes and 10,000 SMS within ROI and EU. All other calls and SMS in excess of our Fair Usage Policy or for international, premium, non-geographic numbers and non EU roaming will be charged at our standard rates. Monthly Fair usage allowance of 30GB data, after which speeds will be limited. 6.8GB of this 30GB allowance can be used within the EU after which surcharges will apply. Surcharges will also apply if over a 4 month rolling period your roaming usage or presence within the EU exceeds your domestic usage or presence. Details of our rates can be found here.

Virgin Mobile Phone: If you purchase a mobile phone from Virgin Media, you must have an active Virgin Mobile plan for each phone. Maximum of two phones per account, and only one mobile phone purchase per transaction. Subject to credit check, availability and contract. T&Cs apply - click here for mobile phone terms and conditions.

Place your order through our safe and secure checkout.

Get an email and text with delivery details - and ways to change them.
(If you placed your order before 6pm you'll get your delivery in two working days)

Sit back and let our courier come to you at the scheduled time and place.

If you love your mobile number, switch it to your new SIM in 3 easy online steps.
Get an
International Add-On

Which includes 50 Minutes and 50 text messages to 27 European countries
for just €5 per month.

We separate the cost of your 4G Data, calls and texts and the cost of your phone repayments.
Step 1: Choose your smartphone and how long you want to spend paying it off - 12, 18 or 24 months.
Step 2: Choose from one of our great value flexible Mobile Plans, giving you oodles of 4G data, calls and texts every month.
You can pay off the balance of your smartphone anytime you want, and once the phone's paid off your bill drops to just the cost of your 4G Data, calls and texts.
Not looking for a phone?
Free yourself with our 30 Day
SIM Only plans.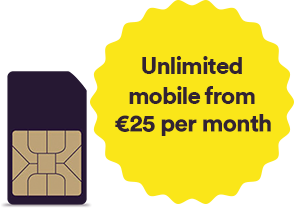 *€5 for the first 5 months. €25 thereafter
when you're a Virgin Media TV or Broadband customer.