Vote with your feet for Fashion Independents' Day
Frockadvisor will be celebrating their 3rd annual Fashion Independents' Day tomorrow, Thursday April 21st 2016, supporting independent boutiques across Ireland, in association with Virgin Media.

April 21st 2016 is #FIDay

Wednesday April 20th 2016 – frockadvisor will be toasting its 3rd year of Fashion Independents' Day tomorrow, by encouraging fashion lovers across the land to support their local fashion retailers. This year #FIDay is backed by Virgin Media Ireland who partnered with frockadvisor to show support for independent boutiques.
#FIDay supports all things independent in boutique and fashion by asking people to visit their favourite local shops, meet the people behind the stores, experience the ultimate in customer service and see what fashion surprises await.
#FIDay will see ten teams with some of Ireland's top fashion influencers racing across the whole of Ireland to shine a spotlight on the independent fashion retail sector.
With over 500 boutiques getting involved, this year's #FIDay crusaders, including model and blogger Gail Kaneswaran, presenter and stylist Holly White, and top bloggers Lorna Weightman, and Ciara O'Doherty, will visit as many boutiques as possible, taking selfies along the way. The team who trends highest on social media will be the overall winner, winning the accolade and a smart phone from Virgin Media.
Brendan Courtney, Co-Founder of frockadvisor said, "We're delighted to have Virgin Media on board for the 3rd annual Fashion Independent's Day! Last year's event was such a success and was trending on Twitter all day long. Not only did the event get significant attention, it gave a massive profile boost to all participating stores."
Meadhbh Quinn, Head of Marketing of Virgin Media Ireland said, "Irish fashion retailers are renowned for the quality of their offer, including Irish design and couture. You've got to hand it to Brendan Courtney and the frockadvisor team for supporting independent businesses through this innovative and enjoyable initiative. The Virgin Media team are proud to support it and we're urging everyone, everywhere to visit their local boutiques and get involved in Fashion Independents' Day, #FIDay."
Each participating retailer will offer added incentives to shoppers on Fashion Independents' Day. To find out more, consumers can download the free frockadvisor app for updates and maps of local retailers participating in the unique event! http://frckadv.sr/22NOk6h
ENDS
Notes to the Editor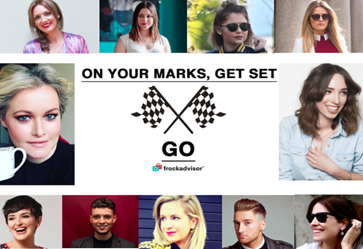 THE 2016 CRUSADERS
Blogger, presenter and stylist Lorna Weightman - @styleisleIRL - Dublin & Kildare
Presenter, stylist, writer and blogger Holly White - @HollyKateWhite - Dublin
Dublin based fashion broadcaster and blogger Ciara O'Doherty - @CiaraODoherty - Galway
PR guru and snapchat sensation James Kavanagh - @JamesKavanagh_ - Dublin
PR guru and male fashion blogger Rob Kenny - @robkenny_ - Dublin
Fashion stylist and top brand consultant Corina Gaffey - @corinagaffey – Dublin
Blogger, model and stylist Gail Kaneswaran @GailKaneswaran – Dublin
Fashion and Lifestyle blogger Jessika Banaghan @Jess_Selfiegirl
Blogger and social media influencer Rebecca O'Byrne @HauteSoFabulous- Dublin
Fashion Bloggers Louise Cooney & Niamh Love Life Blog - @louisecooney_ & @Niamh_LoveLife - Limerick
Model Agency Directors Emer O'Mahony & Viv McCarthy - @irishfashaholic & @VivLockdown - Cork

Come celebrate frockadvisor's 'Fashion Independents' Day' #FIDay

About frockADVISOR
'frockadvisor' - the app that connects fashion lovers with their favourite independent boutiques.
Users can post a photo of something they want and their favourite boutiques can respond in a 'fotocon' (photographic conversation) by sending a photo of similar things that they have in stock. For the first time, this gives independent fashion stores a chance to compete with the big boys of ecommerce, and fashion lovers a chance to truly find something different. Let the fashion people you love and trust find the things you want.
About Virgin Media

Virgin Media is Ireland's leading digital pioneer and innovator. It was the first to introduce bundles for digital TV, broadband and phone in Ireland in 2007 and has driven market developments constantly since then.

Virgin Media is a part of Liberty Global plc, the world's largest international cable company. Together Virgin Media and Liberty Global serve 27 million customers across 14 countries, helping connect people to the digital world and enabling them to discover and experience its endless possibilities.
Information:
Follow us on Twitter: @VirginMediaIEPR