My Virgin Media is packed with loads of handy features to help you take control of your Virgin Media life. Sign in today and see the benefits for yourself. Update your personal details, view recent bills, make payments and so much more – 24 hours a day, 7 days a week!
Track your usage for all your services, including fixed and mobile
Update your personal details and tell us how you prefer to hear of our latest customer exclusive offerings.
Use My Virgin Media to let us know if you're moving home and we'll make the move as simple as possible.
Update your login details such as username and password
Sign up to Wi-Free and set your password
Make payments, register for Direct Debit, view your bills and sign up for eBilling
Buy premium channels and register for our Virgin TV apps
Cancel your SIM if your phone is lost or stolen
Step by step guide of how to register for My Virgin Media
When you register for My Virgin Media, you're well on your way to getting the very best out of all our current and future services. Registering is simple – here's all you need to do:
Make sure you have your account number for your Broadband/ TV/home phone account and/or mobile account ready to hand. If you are already registered for My Virgin Media as a fixed customer, and would like to add your mobile account you can login now, and on your 'overview' page scroll to the bottom and select to 'Add mobile' account. Following the registration process you will be able to see both your fixed and mobile accounts together.

Step 1: customer identification
1. Go to www.virginmedia.ie/register
2. Select your customer type: fixed, mobile, or both. If you have not registered yet for My Virgin Media and you have signed up to both Fixed and Mobile services then select 'Both'. If you are signing up only as a fixed customer select 'Fixed' and if you are just a mobile customer, select 'Mobile'.

3. Enter the required account number(s), which will show at the top of your bill or communication email/ letter from Virgin Media.
4. Enter your Surname, exactly as it shows on your bill or communications from Virgin Media
5. Click on 'I am not a robot' and answer the question.
6. Then click 'Proceed'.

If you're having any issues entering your account number or surname you can click to chat with a member of our team.
Step 2: Account details
1. Enter your first name, this will be the name displayed in your signed in status. You can change it any time later through My Profile section in My Virgin Media.
2. Enter your Username. If you are already registered as a fixed customer in My VirginMedia and signing up as a mobile customer, then use the Username you use to sign in. If you are registering for the first time then use your email address. A verification email will be sent to that address so make sure it's entered correctly.
3. Create a password that has the following:a. Must be 8 to 64 characters longb. Must contain one upper case characterc. Must contain one lower case characterd. Must contain one numbere. Must not have 3 consecutive characters in a rowf. Cannot contain spaces
4. Confirm that password, the two fields need to match exactly
5. Select a security question, which will be used in the future if you forgot your password.
6. Enter the answer to the security question. Please make sure it's something memorable.
7. Read the terms and conditions and then tick the check box for 'I agree to the terms and conditions' if you agree.
8. Click 'Continue'
Step 3: Activation link
1. An email will be sent to you with a link, to the email you have provided, or registered on your existing account.
2. Open the email and click on the link in the email.
Step 4: registration complete
1. Once it's done the registration process is complete and you can sign in to My Virgin Media at any time, 24/7, and enjoy all the great services provided behind login.
2. You will also receive a confirmation email from us!
You can start using your My Virgin Media account today!
If you have already registered for My Virgin Media, but forgot your username, you can retrieve it.
If you have already registered for My Virgin Media, but forgot your password, you can reset it.
Step by Step guide to accessing your online bill
Once you receive your email notification, you're all set to go online to view your latest bill.

Step 1
Go to www.virginmedia.ie/myvirginmedia/
Once you get to the log in page enter your username and your password into the spaces provided and click 'Login'. .
If you have forgotten your user name or your password no problem, you can select these options below each text field and follow the on-screen instructions to retrieve the information.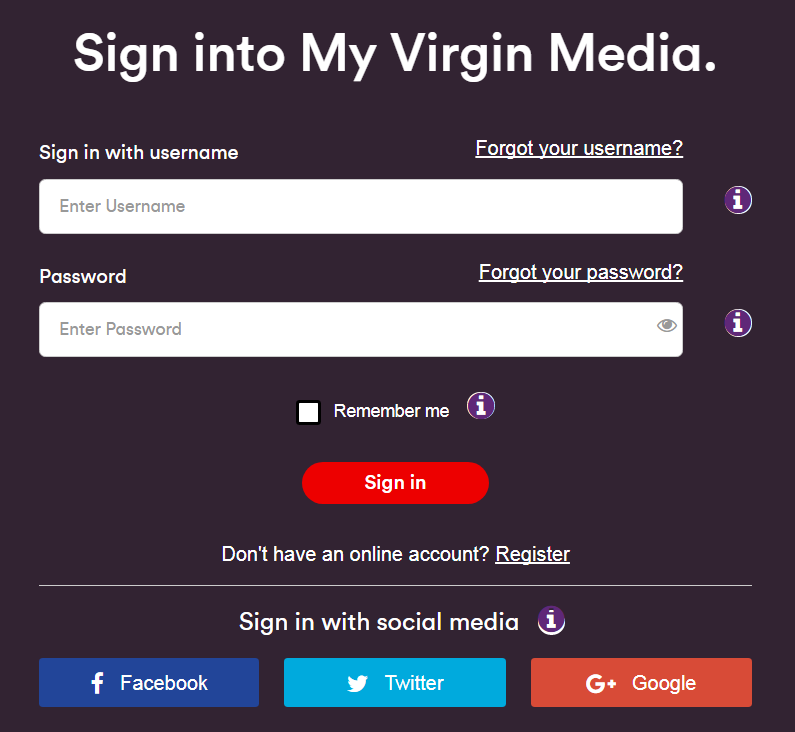 Step 2
When you have logged in, select the 'My Bills & Payments' drop down menu at the top of the page and choose 'View My Fixed Bills' or 'View My Mobile Bills' to access your bills.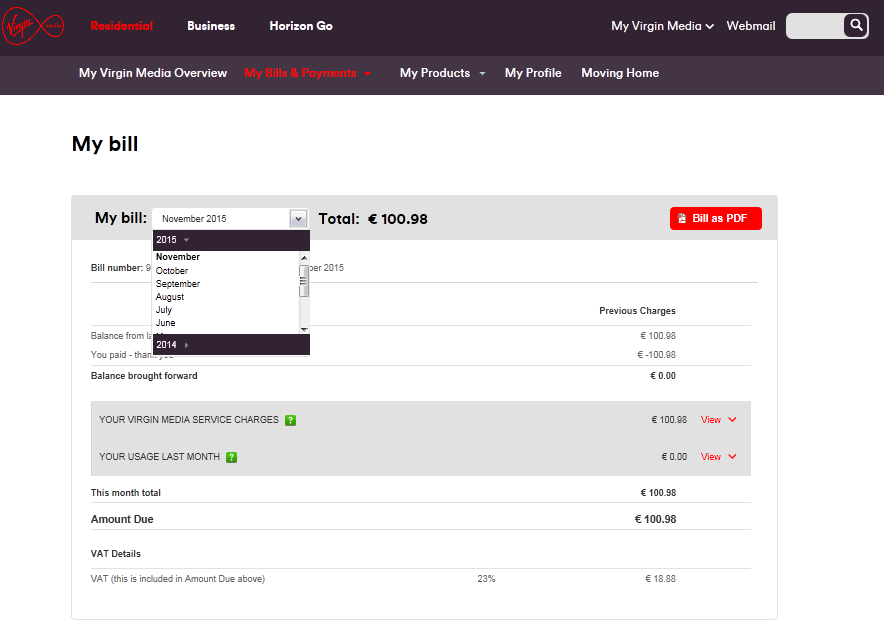 From the drop down menu next to 'My Bill' label, you can select which month you would like to see. You can then select to view the whole bill as a PDF.
You can view a summary of your bill by scrolling down the page.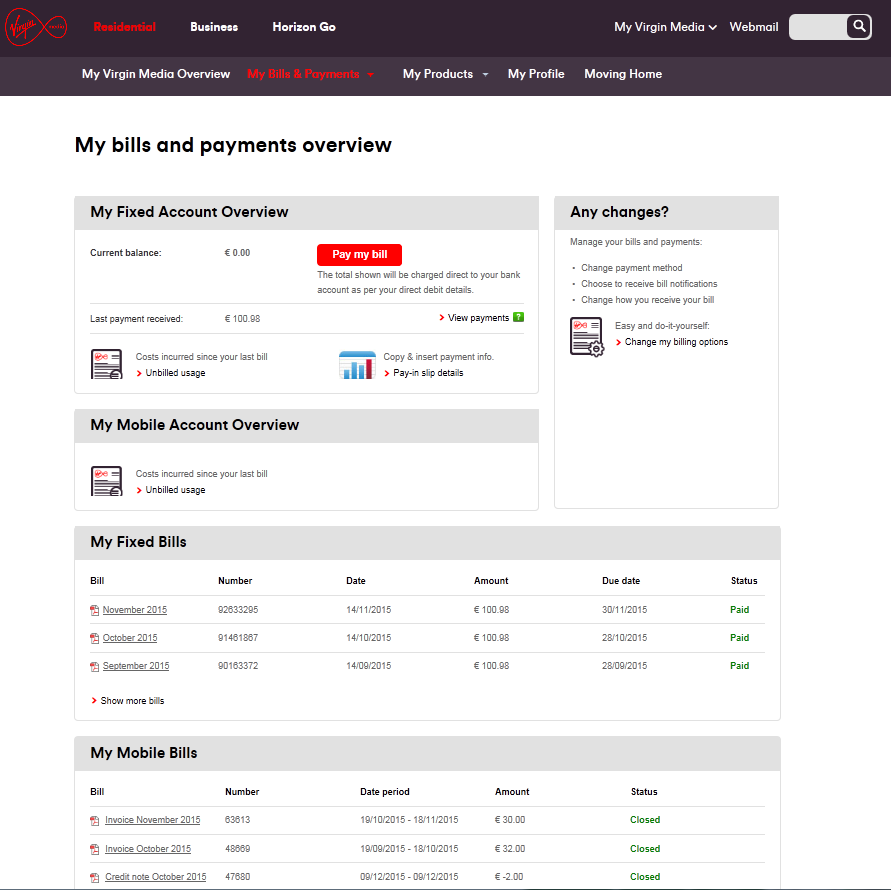 To see it in more detail you can select the 'My Bills & Payments' option in the top banner and then select 'My Bills and Payments' in the dropdown menu to view all of your payment details in detail.
Step 3
If at any stage you would like to
change your bill settings, you can do this by selecting 'My Bills & Payments', then select 'Change My Billing Options' from the drop down menu.